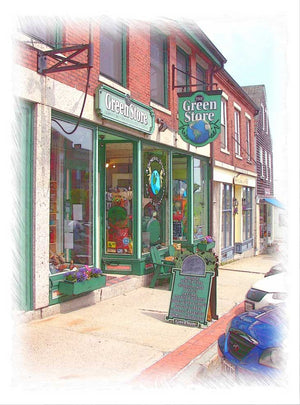 Glad you're here on the web...
but it doesn't compare to a real visit with us!
In the fall of 1993, we opened The Green Store in a 100-year-old brick building on Main Street in Belfast, Maine. With a nod to village general stores of the past and a mission to promote personal and planetary well-being for the future, we set out to provide simple, practical products and information to help people live an environmentally sustainable lifestyle.
Now, many years later, we are sometimes called a "destination"! There are things we hear every day: "I've never seen a store like this!" "It smells so good in here." "You all have been so helpful!" "I wish we had a store like this in our town!"
What we have shared with you here on the website is just the tip of the iceberg. If you are looking for an eclectic town and a fascinating place to browse and shop for a couple hours, we hope you'll come visit us in person!
The Green Store
71 Main St.
Belfast, Maine 04915
(207)338-4045
Mon - Sat, 10am - 5pm
Sunday, 10am - 4pm